LOMUTY Kalimba Thumb Piano 17 Keys, natural sound, mediation (brown)
Regular Price

$36.90
Sale Price

$36.90

Regular Price
Unit Price

per
Color options:

The Benefits of Using Kalimba

The beautiful sound of the kalimba can effectively alleviate people's mental stress and make you feel more relaxed.It is also very suitable for children's music inspiration. Please put down your electronic devices and listen to the wonderful Kalimba with a relaxed mind.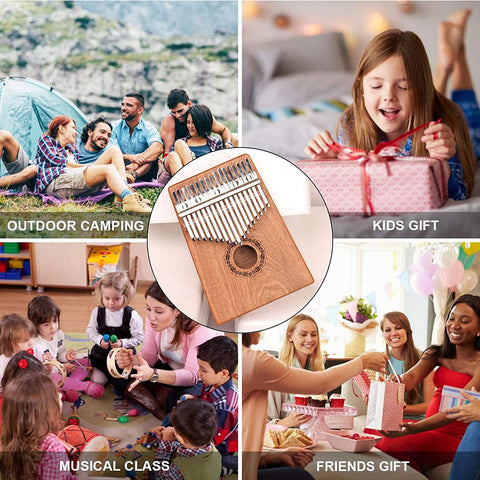 Children's Music Enlightenment

Stress Reduction

Spiritual Healing

Holistic Healing

Deep Relaxation

Musicians & Teachers

Package Include

1 * Kalimba

1 * Instructions

1 * Cloth Bag

1* Thumb Piano Key Color Stickers

1 * Tuning Hammer

2 * Finger Covers

       

1 * Polishing cloth




Beautiful Sound & Easy to Learn

The keys are made of metal steel, when you pluck it, the sound and resonance can be clear , crisp and enchanting,which sound comfortable and can make you relaxed.

There are note letters engraved on the stickers, they can help you to lern it quickly,you can master it in a very short time.

High Quality Material

Good quality comes from good material.It's wood natural color makes you feel that you are in a forest. Beside,it's smooth appearance can give you a comfortable sense of touch. it's special texture make it can produce a clear, clean ,accurate,peaceful and soothing sound, which can give you a calming, pleasant musical experience.

Embossed Notes & Hand-rest Curve Design

The keys are embossed with letters and notes, different from other stickers notes finger piano. Hand-rest Curve Design is to the correct angle ergonomically.
Perfect gift for kids and the elders
Kalimba can make a clear,high voice , it is a perfect instrument for elders to keep their brain active, chanllenge their mind and improve their hand-ear-eye coordination.
Kalimba is also a good gift for your kids to start his music jouney ,because it is handy , kids can hold it easily, and our finger tip cover can avoid them from hurting .Besides, unlike guitar and other complicate instruments, kalimba has a simple structure that your kids can master it quickly.
How to tune the kalimba
To keep your kalimba sounding good, learning to tune is the most important thing.
1. Download the tune APP.
IOS: Instuner
Android: gStrings
2. Tune with the hammer.
Making tines longer (from the point where they are held down on the bridge) will lower their pitch, and making them shorter will make their pitch higher.
CONTACT@LOMUTY.COM